How to convert and store pdfs with soda pdf
Every day we deal with lots of file formats and many file formats are most popular like doc, pdf, jpeg, gif, xls, txt and lots of others. We can create all these file formats by help of various file format related specific software like notepad for txt, Microsoft office for doc, ppt, xls formats and others. Today I am here for "How to convert and store pdfs with soda pdf" I am describing all steps briefly below. How you can create, edit, convert and etc your files.
About Soda PDF
Soda PDF is great PDF editing software. It is introduced by LULU software. This is modular software and you can customize your Soda PDF 7 software according to your choice means if you need only create module then you can install only create module all other module not need to install into your PC. LULU software always work for improve software quality and software features regularly that's why Soda PDF has great PDF editing features which make your PDF related task easier and smarter.
Features of SODA PDF 7:
Open any PDF file, including comic books, with our free built-in PDF reader.
Create PDF Form word, Excel, PowerPoint, image and 300+ file formats.
Convert your PDF files to Word, Excel, HTML, .txt and images.
Edit, Cut, Copy and add text in your PDF documents.
Insert images, links, headers, and footers to your PDF documents.
Review, compare and annotate your documents with sticky notes, stamps, shapes and pencil tools.
Secure forms your PDF documents with passwords, permission levels and digital signatures.
Create Forms from scratch or save, edit and fill pre designed ones.
Turn any PDF and text locked into its images into fully editable documents with our Optical Character Recognition OCR technology.
Soda PDF Based on Modular Technology, we can extend SODA PDF software features by help of module.
SODA PDF 7 Extra Advanced Features
Cloud Access-Today mostly users use cloud service because this is very stable and portable resources for share your content.
You can access your data anywhere without your devices. Soda PDF provides you cloud based services in newly updated version. You can save your document into Soda PDF online space, Dropbox and OneDrive.
Now Convert your PDFs to PowerPoint along with other file Formats.
Do More with your Edit Module! Easily replace pages and extract images.
Insert Headers and Footers as well as watermark in your documents.
Drag and Drop Pages in your previewer to reorder your documents.
Redesign Installation Manager and core Engine Optimization.
IRIS OCR Technology-SODA PDF 7 utilizes the latest in IRIS Cannon technology to accurately recognize text hidden within images in your documents.
Newly added feature is Firefox add-ons.
How to convert and store pdfs with soda pdf
Here I am showing step by step procedure how you can use soda pdf 7 features like installation, create, read, convert, review , forms, secure and sign, OCR and lots of other. But before installation you need to download Soda PDF then install.
How to Download Soda PDF
Step 1: Below I am giving a direct link for download soda PDF 7 software.
Step 2: After successfully download setup now time to run setup. After start setup, new online soda pdf 7 module setup installation wizard opens. Here you can choose what module you want to install into your pc. Below I am showing image of module selection process.
Create, Convert, Edit features and software interface step by step image
When software is successfully installed, you can see great PDF 7 software interface which has top strip toolbar and others. SODA pdf gives you great user friendly interface which make your work smart.
Step 1: when you open startup windows of soda pdf 7 then you can see below options.
Step 2: below showing some major options like open files, create new PDF, and for getting started options.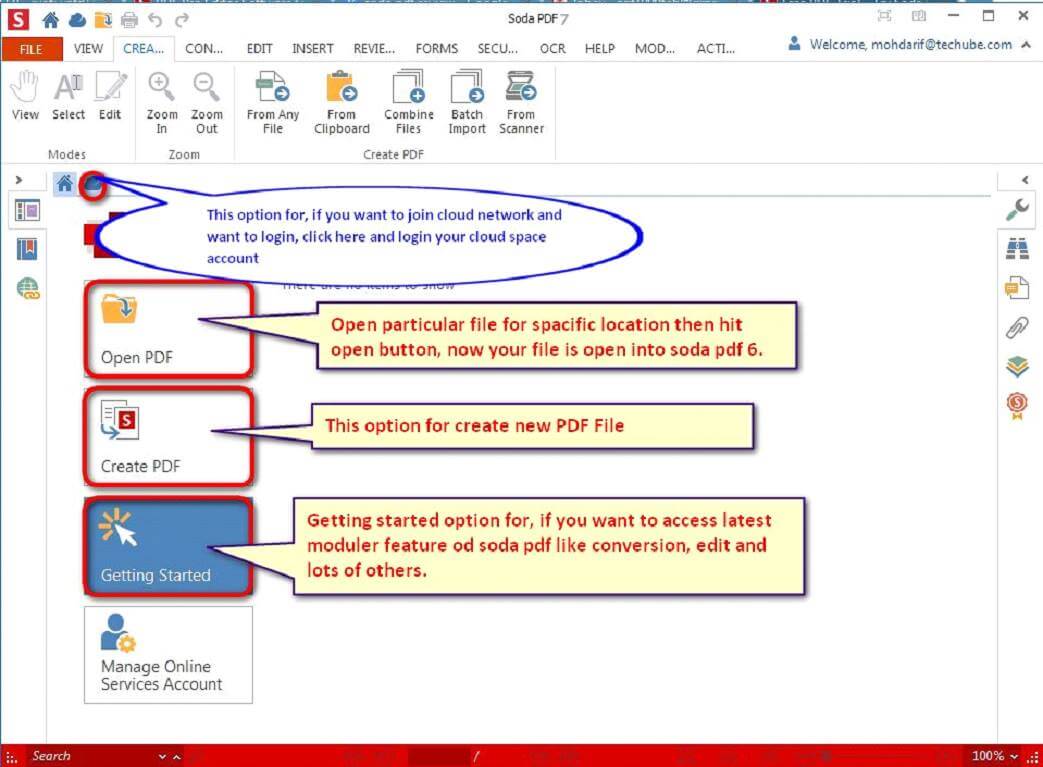 Step 3: Procedure when you want to any specific operation like convert pdf file to excel.