According to me when beginner starts a new blog, they get confuse between both links and don't be able to build high quality backlinks for their blog.
In next 10 minutes you will easily understand the major difference between Dofollow and Nofollow links in SEO .
Beginner's don't know both links are important factor for off page SEO and it also provide extra SEO boost to the content.
Even site also can get MozTrust by creating links and improve its authority like (Domain Authority) DA and PA (Page Authority).
When it comes about search engine optimization some common words are come again and again such as dofollow, doindex, nofollow, noindex, meta robots and some other factors which can increase content ranking.
Do You Know: All of these factors play an important role in SEO, as a second eye of optimization.
In this post you will get the basic knowledge of rel="Dofollow" and rel="Nofollow" links.
What are Dofollow links & How it Attributes?
Do You Know:
Do follow link is a normal type of hyper link which allows Google bot and other search engines bot to follow that link.
Do-follow links send signal to Google to follow the link because it may contain high quality information which can help to "Google searchers".
So, Google improves the ranking of that link and if the site contain more dofollow links it makes more easy to rank a page on Google.
Dofollow link shares the power of the domain which is known as "link Juice".
LOOK: If you get do-follow link from high authority domain it will prefer more to rank a website and if the link is from other website which Google do not prefer then it may get bad effect and may be penalize it.
Bonus: You can also get the Dofollow backlink from Youtube and from Google Drive.
Secret of Internal Linking:
When you do internal linking it must be dofollow because if you provide dofollow link to your other content it shares your own domain authority to your content page and connect the both pages.
Verify that your site is sharing dofollow link to your website pages. You can check it by following last step of this content. If your site is passing nofollow link to your website pages or content then just change it to dofollow. It may give good effect to rank your website pages.
Quick Tip: There are lots of way to get Dofollow and Nofollow link such as from social bookmarking sites and by using CommentLuv plugin and commenting on other blogs which provide follow links so that you can get Dofollow link from high PR sites.
How search engines treats Dofollow link?
Google and yahoo crawlers follow this link.
Bing select link as per ranking.
Ask follow both nofollow and dofollow link, it doesn't matter that the site is getting nofollow and dofollow. It gives equal preference to both dofollow and nofollow link.
What is a Nofollow link and how it decreases spamming?
Why no follow link was discover:
Basically, nofollow link was discover in 2005-o7 to stop spamming on other blogs and giving protection from spammers.
So that's why rel=nofollow link was discovered…..
…and it doesn't affect the pagerank but it creates a new relationship between two webpages.
But in June 2009 Google head engineer matt cutts notify that Google bot is changed and from now they are not going to tolerate nofollow link in same way as earlier and start it with new way by divide linking power to improve page rank.
Want to know the Secret of No follow links:
Nofollow tag tell the search engines that do not follow that kind of hyperlink or it is used for stopping the crawlers to bot that link page.
<a href="http://www.yoursite.com/" rel="nofollow">Link text</a>
When rel="nofollow" tag is present in 'anchor tag' then it tells to Google bot that don't follow this particular link' or 'don't follow link on this specific page'.
<meta name="robots" content="nofollow" />
According to new update of Google in 2009, if a webpage contain 10 links in which 5 are follow and 5 are nofollow then pagerank will be divided by 10 outgoing links and one share of nofollow link will be added to 5 follow links.
How no follow link is treated by search engines
Google bots doesn't follow nofollow link.
Ask bots follow the no follow links.
Yahoo and Bing bots follow it as per ranking.
Here's the Little Case Study: Nofollow vs Dofollow Links?
Many people do not know the major difference between rel="nofollow" and rel"dofollow" links.
According to Google webmaster both the links are helpful for SEO but as compare to nofollow, dofollow link has more importance.
Bonus Tip : If dofollow link is present on top of the page then it provide more SEO boost.
So, dofollow link is better than nofollow but you can't easily get it without using backlink generator tool.
So, Google do not follow this type of link and do not give any authority of  Pagerank to webpage.
You might be wondering:
How to check a website is Dofollow or Nofollow?
You can check which types of link you will get from website by using dofollow and nofollow checker extensions of Google chrome and Firefox.
Such As: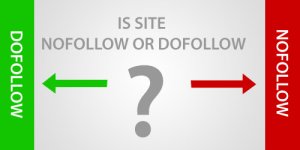 For Google Chrome
For firefox
And by using "inspect element" you can check
…..if "nofollow meta tag" is present then link is no follow and if there is no tag or dofollow meta tag then it is dofollow link.
What's The Bottom Line:
Both types of links you can generate by commenting on other blogs, forums and by bookmarking your content (300+ social bookmarking sites).
Note: Before build links don't think which type of the link you are getting but your more attention toward dofollow link.