Gone are the days when creating a website took weeks or months on end with the hard labor of professionals for designing, developing, and maintaining the site.
Now, you can simply create a website in a matter of hours right from the scratch or through pre-designed templates.
Whether you want to create a professional portfolio, blog, eCommerce store, or any web-based platform for that matter, you can easily do so with or without any technical knowledge whatsoever.
Wanna know how? Stick till the end of this Divi review to know everything in detail.

WordPress theme builders are all the rage nowadays and rightfully so. Using a WordPress multi-purpose theme builder saves you the trouble of hiring developers and enables you to create your site through a simple drag-and-drop editor.
One of the most popular, reliable, and widely used WordPress Theme Builders in 2022 is Divi. To know more about the Divi Theme Builder, read this extensively detailed Divi theme review.
We will guide you through multiple aspects such as key features, pricing plans, customer support, pros and cons, and more.
Introduction to Divi Theme Builder
Divi is the flagship theme and visual page builder developed by Elegant Themes and was initially launched in 2013. Over the years, Divi has been through continuous updates and improvements and has therefore gained its reputation by being relevant till this day.
It is undoubtedly one of the best WordPress theme builders as it lets you create dynamically rich, creative, and professional-looking websites with the help of its powerful modules, seamless integrations with various applications and robust features without having to write a single code of line.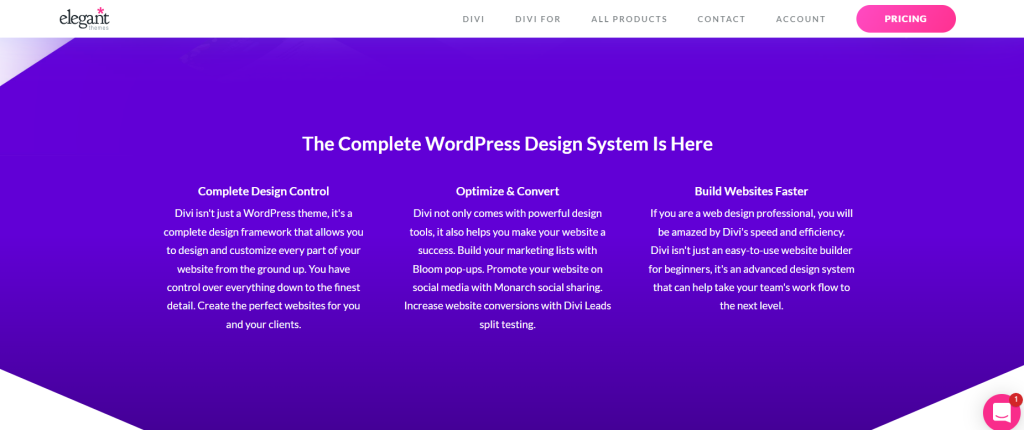 Divi Theme Builder provides you the entire control over your website, over each and every element, and the way you want to customize them. As of the latest Divi version 4.18, you have access to Theme Builder Library with Divi Cloud support, the library of 2,000 pre-made designs, more than 200 full website packs, access to open source pictures and illustrations, lead generation & social media marketing, and more.
You have the ability to develop personalized designs, edit layouts, oversee filters and effects, add contact forms, and image sliders, customize indexes and pages such as 404 pages, search results, category feeds and more. Read the complete Divi review to get a complete overview of the theme builder capabilities.
Divi Theme Builder – Key Features
Divi provides a plethora of features for easy building of your website/s, however, in this section of the Divi theme review, we will go through the main attributes of the WordPress theme builder.
Divi Builder
Divi provides two builder variations; a basic "Back-end Builder" along with the front-end "Visual Builder". Both the back-end as well as the front-end builder enable you to create exactly the same types of websites wherein the sole distinction that remains between them are the interfaces.

Along with all of the other typical WordPress options, the Back-end Builder is accessible through the WordPress Dashboard, where it is integrated into the WordPress UI. It is ideal for quick editing, however, has its own drawbacks such as a block-based representation of your site.
Whereas Visual Builder on the other hand lets you create your web pages on the website's front end. This allows quick website creation with minimum efforts and a seamless experience where any modifications done to your site immediately reflect the changes.
You have the ability to simply start typing in order to add content after clicking on the page, drag to move or resize elements, highlight part of the text, edit design and style preferences, alter fonts, fine tune designs for different devices, etc and witness everything unfold in real time.
200+ Modules
Divi offers an expansive set of content elements and lets you download more from the Divi community free of cost along with Divi Marketplace.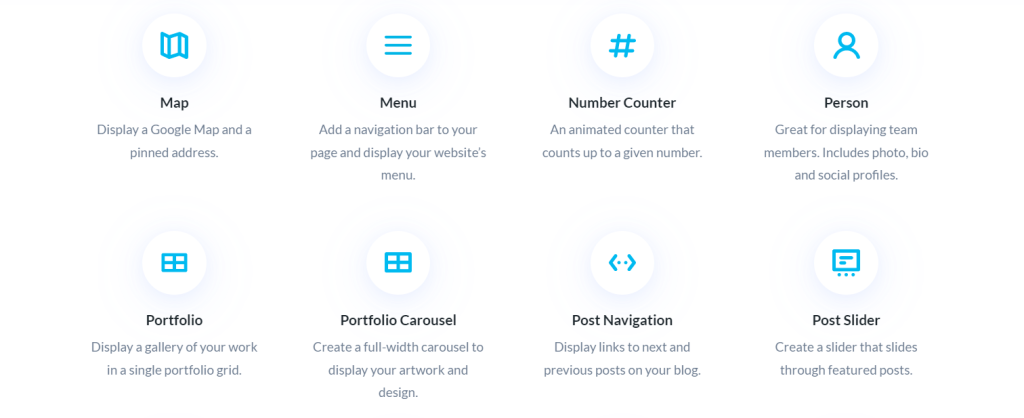 These native content, structural and WooCommerce elements are fully customizable, include multiple design settings, and allow you to create any type of web page.
Some of the available elements include Image Carousel, Audio, Blog, Bar Counter, Blurb, Contact Form, Countdown Timer, Gallery, Login Form, Alert, News Ticker, Typing Effect, Sections, Rows, Post Navigation, Pricing Tables, Testimonial, WooCommerce Product Gallery, WooCommerce Checkout Billing, WooCommerce Product Reviews, WooCommerce Checkout Shipping and more.
Wide Selection Of Layouts
Divi offers more than 2,000 website layouts divided into a total of 277 packs. You can choose a pack for multiple types of websites such as Travel Agency, SaaS Company, Wedding Planner, Florist, SEO Company, IT Services, Political Candidate, Food Recipes, Real Estate, Art Gallery, Actor CV, Influencer, Architecture Firm, Travel Blog, Virtual Assistant, etc.
You can search for the preferred layout by refining the results on the basis of the following available criteria including Art & Design, Community & Non-Profit, Online Store, Education, Health & Fitness, Lifestyle, Fashion & Beauty, Technology, and more.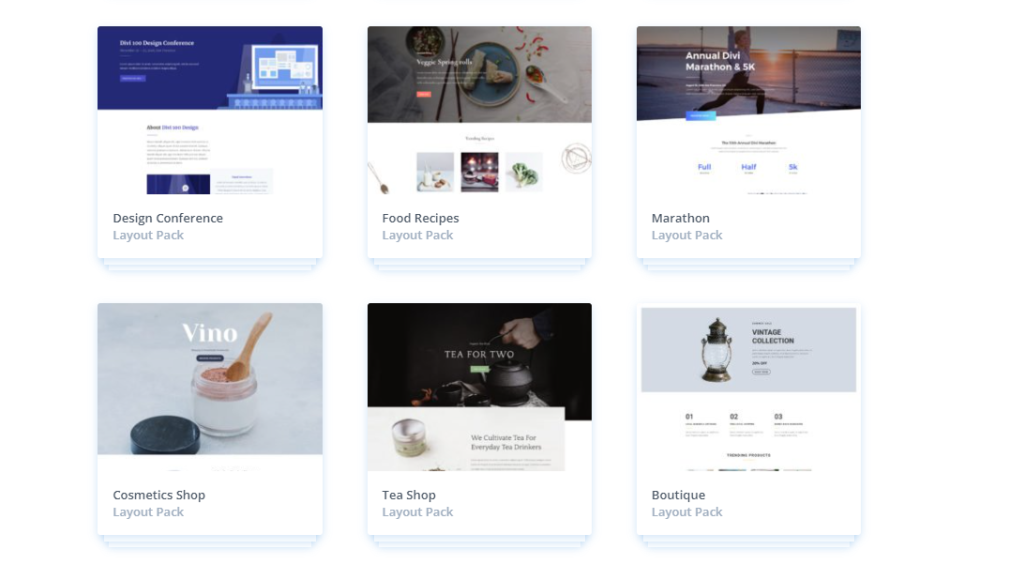 Workflow & Productivity
With Divi's improved workflows you can create websites quickly and efficiently with the help of the productivity-boosting features. The "Quick Actions" interface provided by Divi is an all-purpose command center and a search tool that lets you execute a wide variety of actions from within the builder itself.
You have the ability to multi-select elements with shared settings and bulk edit them rather than modifying them one by one, saving time and effort. You can enable keyboard shortcuts, copy and paste styles across different elements, extend the collection of design settings' values to multiple elements on the page, drag files directly into the builder and drop them on the page, etc.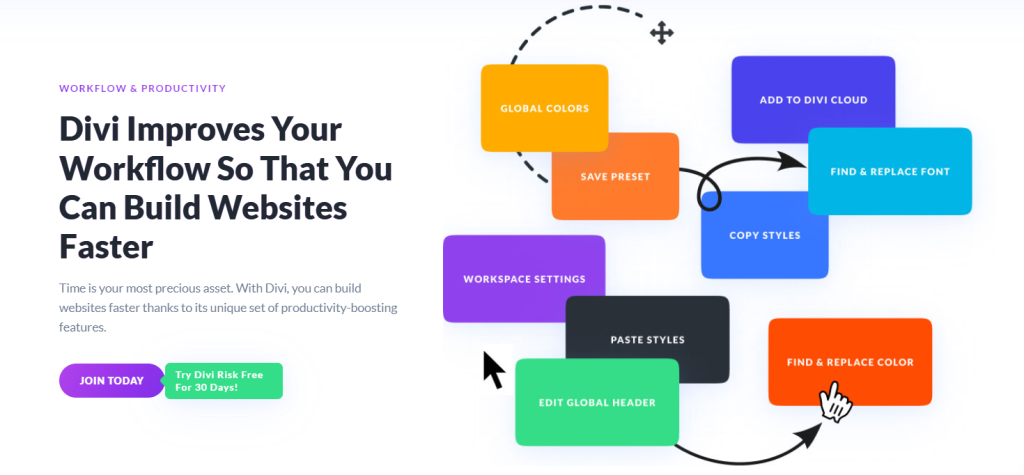 Third-Party Integrations
Divi seamlessly integrates with tons of WordPress plugins and online services and you can do so by using the Divi code module or creating your own. Some of the available integrations include Cartflows, WooCommerce, wpData Tables, Tutor LMS, ActiveCampaign, AWeber, Gmail, Facebook, Google Fonts, Twitter, PayPal, Stripe, Amazon, Blogger, HubSpot, Emma, Constant Contact, WPML, Modula, MemberPress and so many more.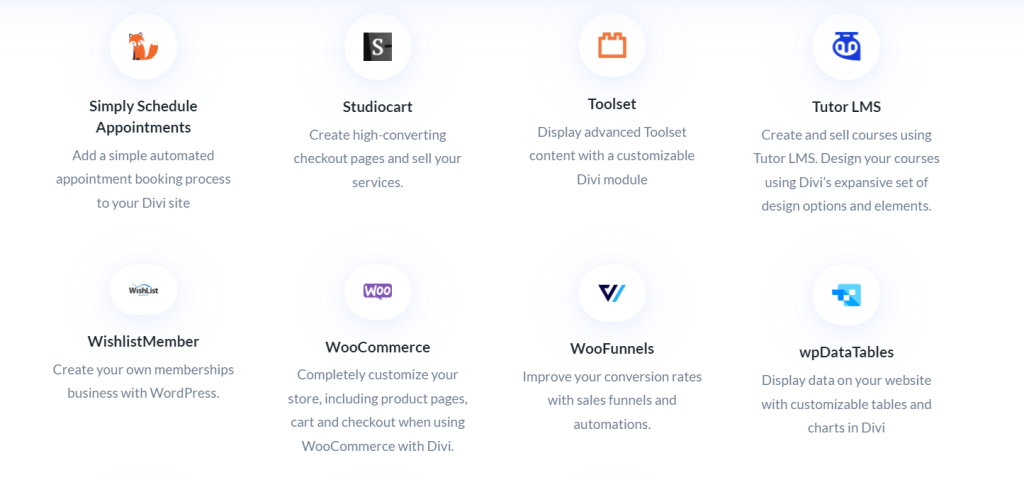 How Much Does A Divi Theme Builder Cost?
Elegant Themes' Divi framework is available for purchase on both yearly as well as lifetime subscription. You may purchase the subscription for 20% less than the initial cost thanks to the ongoing Divi Summer Sale till 31st of August.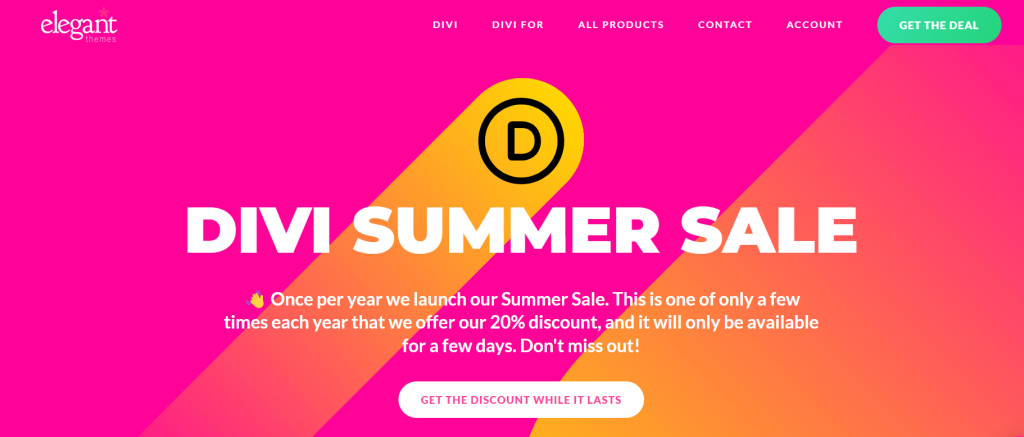 The annual access package for Divi is normally $89, but you can get it for $70 by the end of August. The yearly subscription provides you access to Divi, Extra, Bloom, and Monarch as well as premium support, hundreds of website packs, product updates, unlimited website usage and a risk-free guarantee with this bundle.
Normally, Divi's lifetime access requires a one-time payment of $249; however, it is available for $199 for a limited period of time. With this plan you can take advantage of the features such as Lifetime Premium Support and Lifetime Updates in addition to all of the features included in the yearly plan.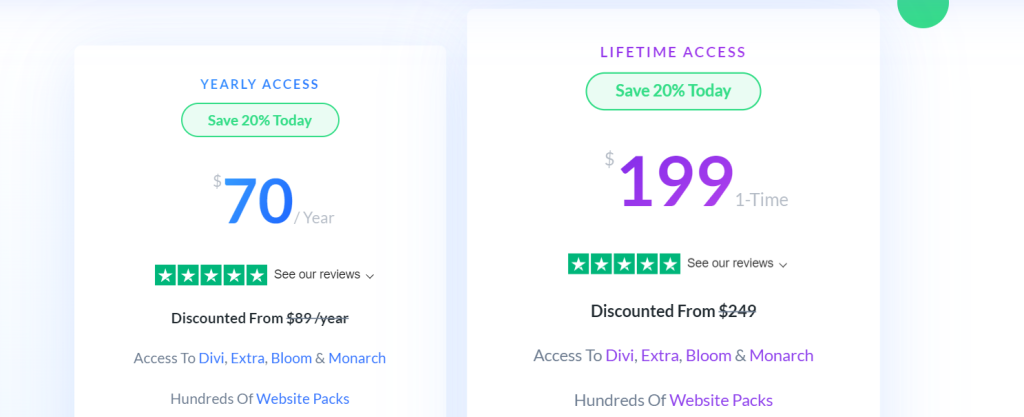 The Divi toolkit is equipped completely with advanced features and powerful attributes, including access to open source photos and illustrations, online marketing, the ability to sell an unlimited number of products online, social media marketing and lead generation among many others.
How To Get Divi's Subscription On Discount?
In order to apply for Divi's membership at lower prices, make sure you look out for their Summer Sale, Discount Offers and such. Follow the steps given below in order to start your journey with Divi.
1. Head to the official Divi website and click on the "Join Today" button present on the home page.
2. Next up, you will be redirected to the pricing page where you can select any of the two membership subscriptions and click on the "Sign Up Today" button.

3. You will then be redirected to the account registration page where you can fill the form with details such as email address, full name, card number, etc. Agree to the T&C and hit the "Complete Registration" button and you are good to go.
Does Divi Have A Refund Policy?
Although Divi is one of the best theme builders to exist as of today with an easy-to-use interface and a professional suite of advanced features, in case you are not satisfied with the product, you have the ability to initiate a refund. Divi offers a 30-days money-back guarantee where you can rescind the Elegant Themes membership and receive a full refund.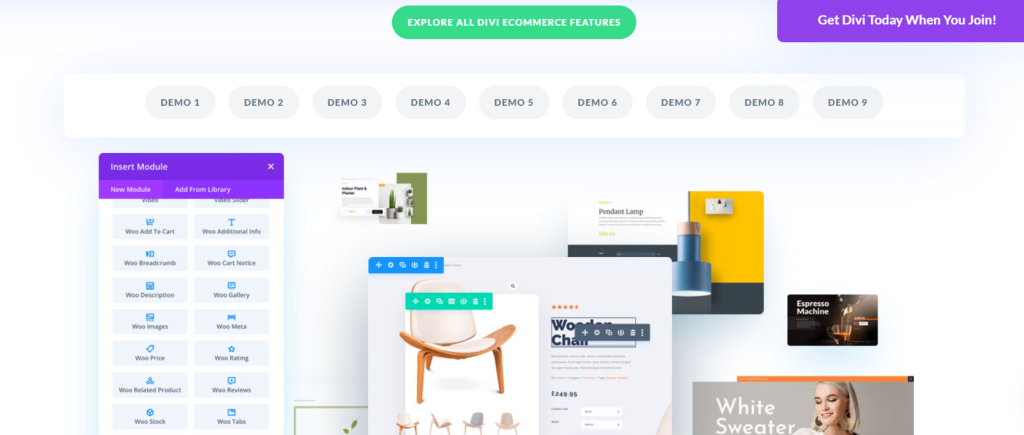 Divi Pros and Cons
Pros
The Divi theme builder is a dynamically adaptable solution that gives you several customization choices.
The divi editor provides both a standard back-end builder and a visual front-end editor.
Elegant Themes memberships are available for $70 and $199 for yearly and lifetime access, respectively, a deal too good to miss out on.
Lets you easily integrate with a variety of third-party applications, providing you the freedom to improve the capability of your website/s.
Lets you access a feature-rich suite including marketing functionalities, pre-designed templates, etc.
Cons
The pricing plans are a little costly when compared with other alternatives.
Includes learning curve due to the availability of an extremely high number of theme-related features.
Divi Customer Support
Being able to contact the customer support team and receive speedy responses whenever you need guidance or have queries is undoubtedly one of the most important factors when making your decision. In this section of Divi review, we provide an overview of customer support services offered to you.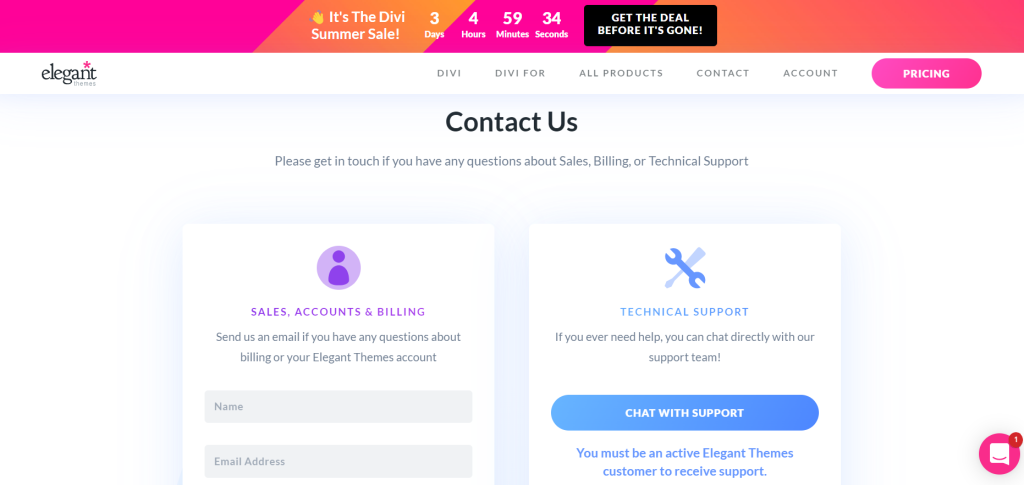 Once you have paid for a membership program, all Elegant Themes users get access to premium 24/7 support. Numerous self-help resources are available to you, newsletters, frequently asked questions, in-depth documentation, developer docs, blog posts, etc.
Ticket submission and live chat feature, which is uncommon for a theme builder platform, is available to assist you get in touch with the support staff. Additionally, you can engage with Divi's representatives via social media platforms including Twitter, Facebook group, YouTube, and more.
Divi Theme Review – In A Nutshell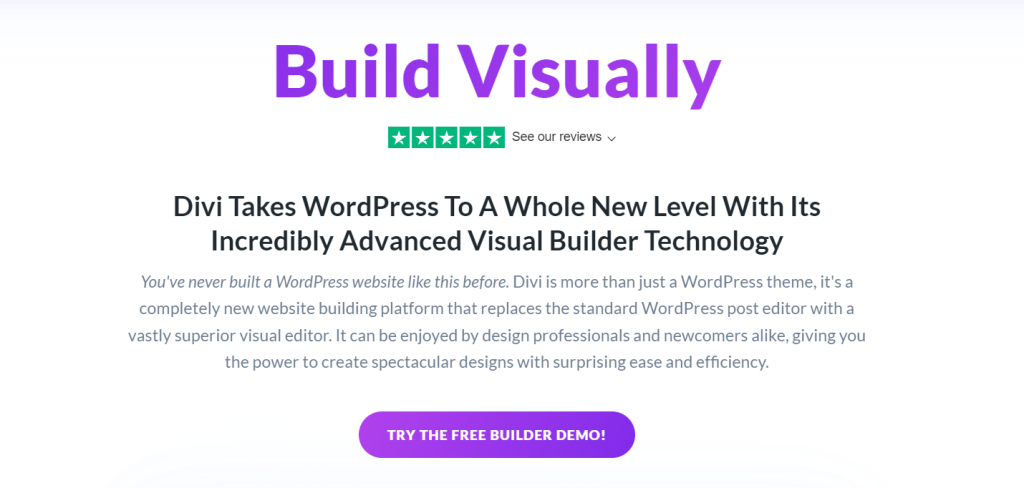 Wrapping up the Divi review by summarizing all that we have discussed so far in this guide and answering whether or not you should invest in the theme builder or not. You must have already formed an opinion of your own after reading this comprehensive Divi theme review, however, for the record, we highly recommend the Divi Theme Builder.
Whether you are a beginner or expert when it comes to developing websites, Divi is totally incomparable. From an extensive library of pre-designed templates to numerous layout options, various customization settings to professional page builders, impeccable customer support to a robust set of advanced features, Divi offers it all. Therefore, Divi is worth investing in.