The century of technology has given a lot to humans. The day it has turned the tables in favor of people seeking comfort and ease is remarkable.
But not all pros are in living in a century highly connected to technology. Because the aspect of personal information being shared on the internet without the consent of the beholder is horrifying.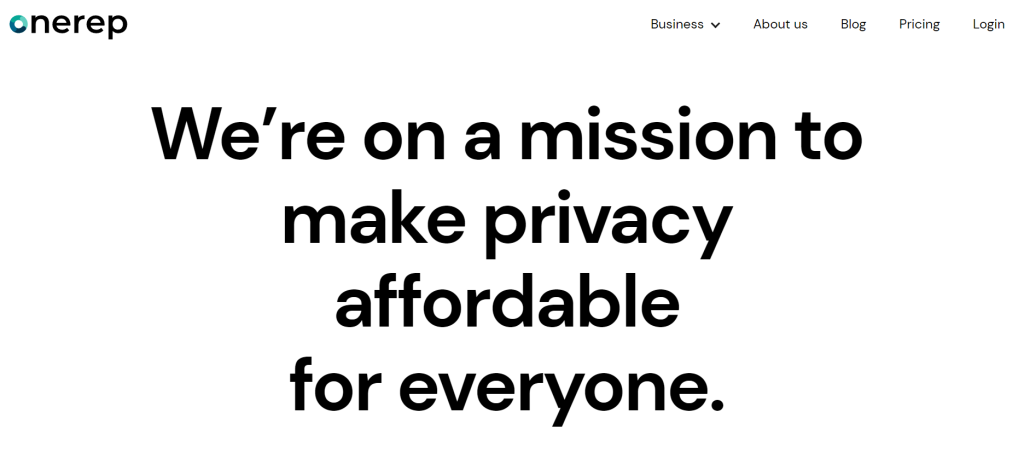 The kind of terror one can face due to all this is something that can't be ignored. So is this possible to snap your personal information away from the internet?
Or snapping and making stuff fade away is only what Thanos can do? To answer all these questions let's figure out more about a platform named OneRep. As maybe most people are suffering only because they don't know how easy the escape is.
What is OneRep? (In-Detail Review)
OneRep has the power to delete your personal information available over the web which is often sold by broker sites completely.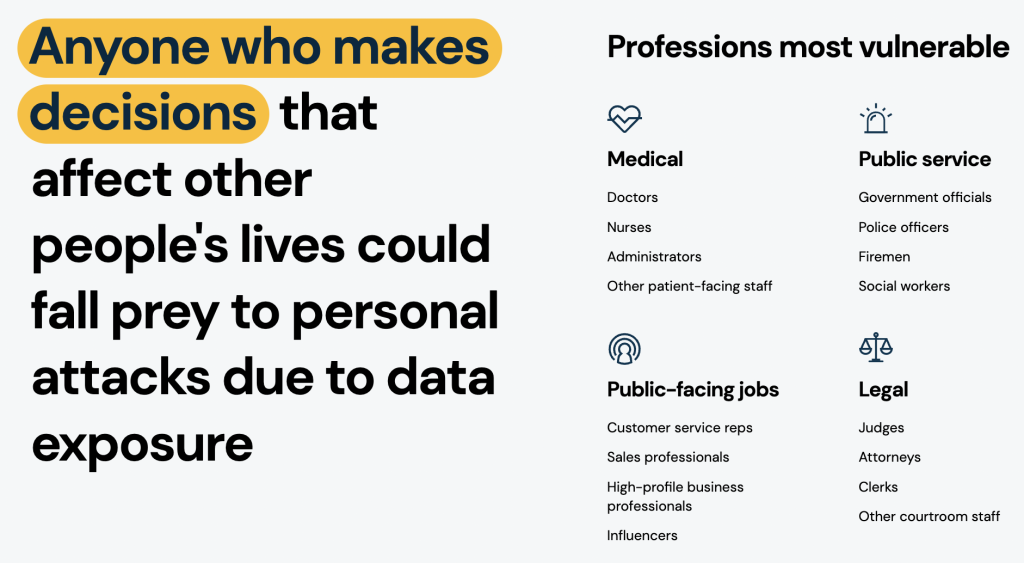 Yes, this may sound magical as no more data leaks and horrors are going to make you feel the terror.
Dimitri Shelest started OneRep in 2015 with help of his team. The platform has earned the trust of millions of users in these years and has been tagged as one of the most used platforms with advanced technology.
Also, the founder's vision has been the base of the development because what a company believed to deliver narrates a lot about the structure of the product.
Vision Behind To Start OneRep
The world has been experiencing the scars of capitalism for so long. As the concept is progressive it also makes the poor suffer. And the definition of poor has been getting expanded over the tears now.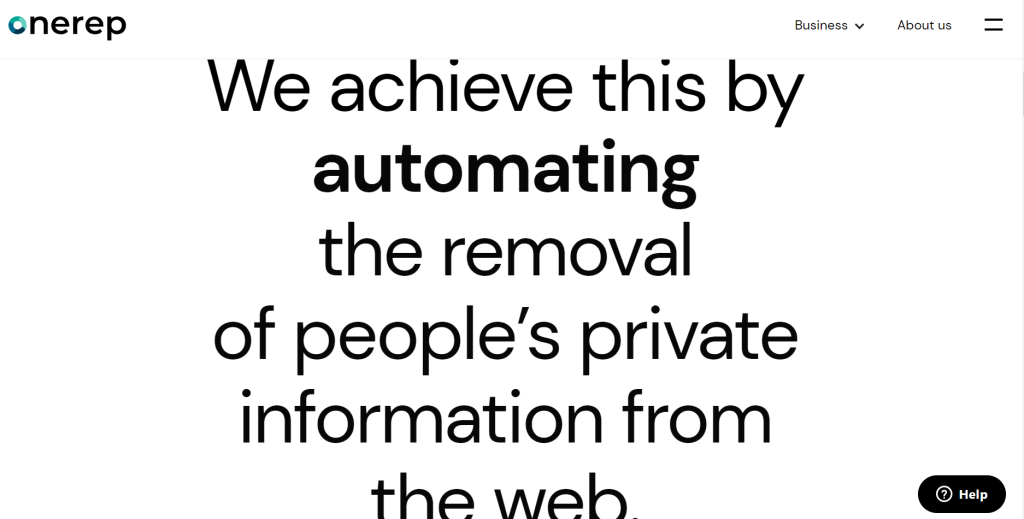 A few decades back having a car was a luxury but now even the fact of having privacy has turned into something unaffordable.
The founder of OneRep felt so many scary incidents of his friends and acquaintances who had suffered a lot due to their personal information being circulated. And the situation turned more stressful when getting out of this turned into some people's full-time jobs as many people had to struggle for hours and hire people to get their information erased.
This is how badly privacy turned into luxury and normal people aren't allowed access to it. But our founder got this vision to make privacy affordable by making a platform like OneRep which can grant them the privacy that they deserve.
Pricing of OneRep
So as discussed the vision involved removing privacy from the bucket of luxury. As people shouldn't think that they need heavy bucks to get what they deserve.
This is the reason why pricing plans have been designed with perfection. Different kinds of pricing plans offered by OneRep are as follows:
Protect yourself
Individuals who wish to have the services for themselves only should go for this plan. The plan costs around $14.95 per month and is offered 40% off if opted for an annual subscription. This basic planning should be tried by everyone who wishes to remove their personal information with the minimal service charges available on OneRep only.
Family protection
Who doesn't wish to keep their family safe? And as far as personal information is concerned it is mostly connected between family members. So why not get a subscription which is going to grant privacy to the complete family together?
The family pack includes protection for 6 members and costs around $27.95 per month with the same 40% off offer for an annual subscription. As families are always important, it's essential to protect those who protect us in our dark times.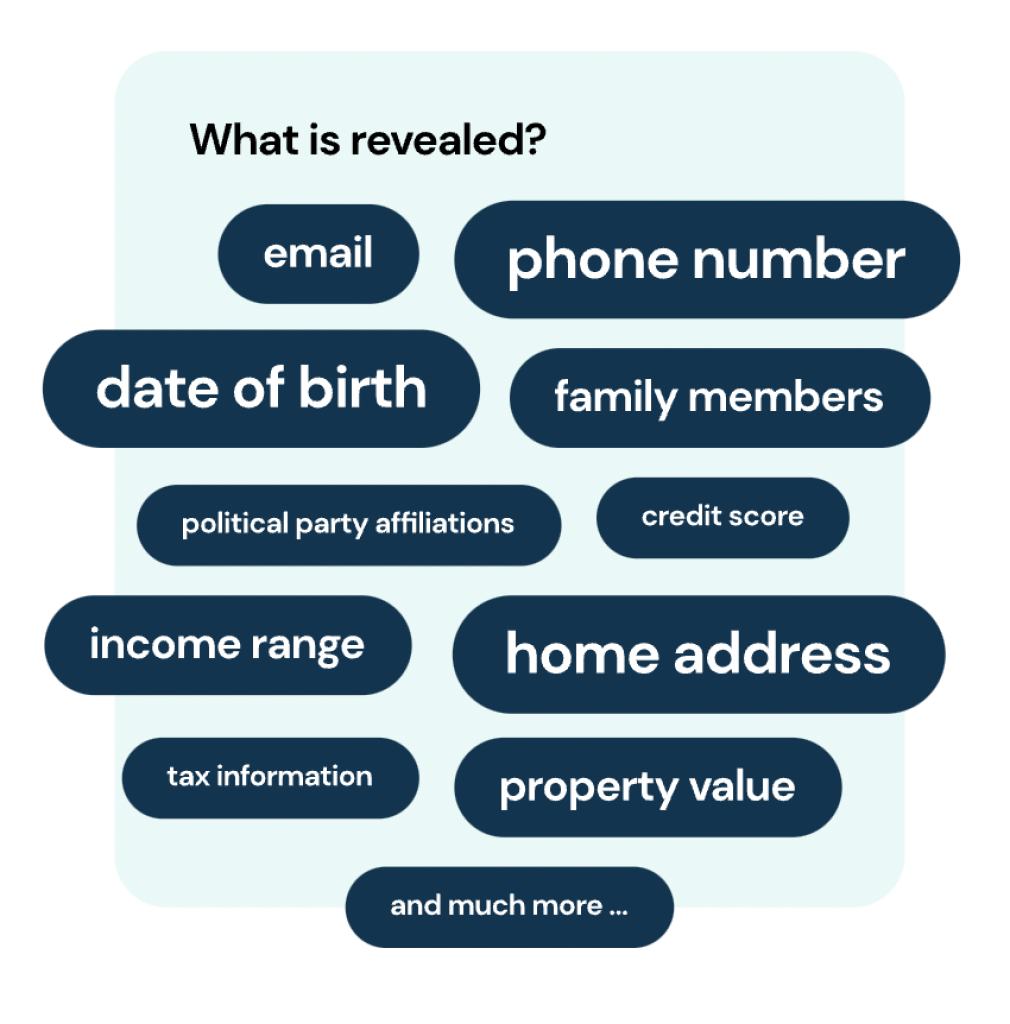 Team
Businesses deserve protection too as a lot of data is supposed to be kept secure and not allowed to float over the internet. This is the reason the pricing plan of team packs has been delivered once the company reaches the OneRep staff.
The services involve protection for more than 10 people, dashboard access to the admin, flexible employee onboarding, and customized billing and integration. The official website doesn't narrate the pricing for this pack as it differs from company to company.
Benefits of using OneRep
OneRep offers several benefits which are pretty attractive to users. Some of the major benefits of OneRep are as follows: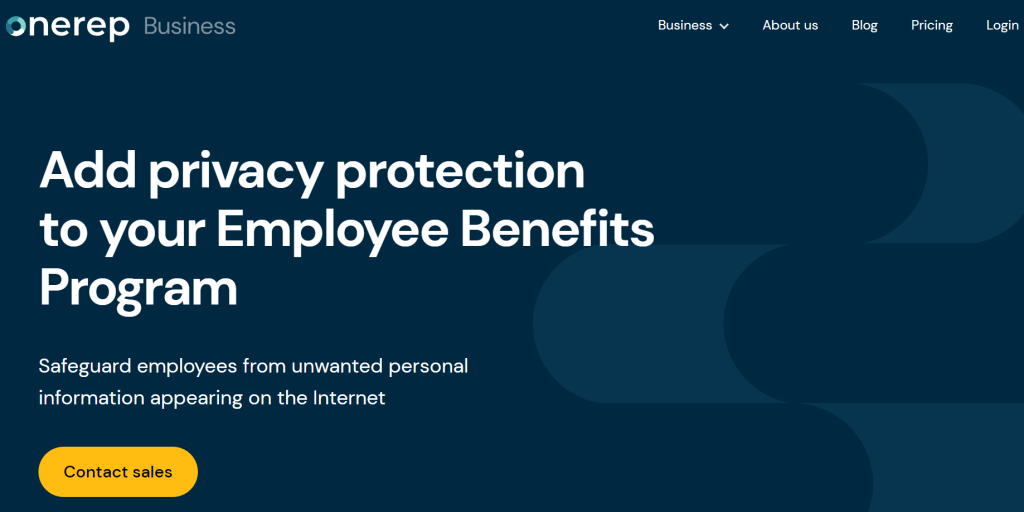 Easy pricing plan
The pricing plans of OneRep are super easy as the way distribution has been done is logical. The subscription is simple and pricing differs from person to person. The easy pricing attracts users as they don't have to give double thoughts about applying for a subscription.
5 Day Free trial
Free trial is always essential assistance that everyone seeks. A free trial helps in getting an insight into how well the platform works. Before paying any penny, everyone deserves to know how well the platform is going to work and whether is it worth the amount it has been asking for or not.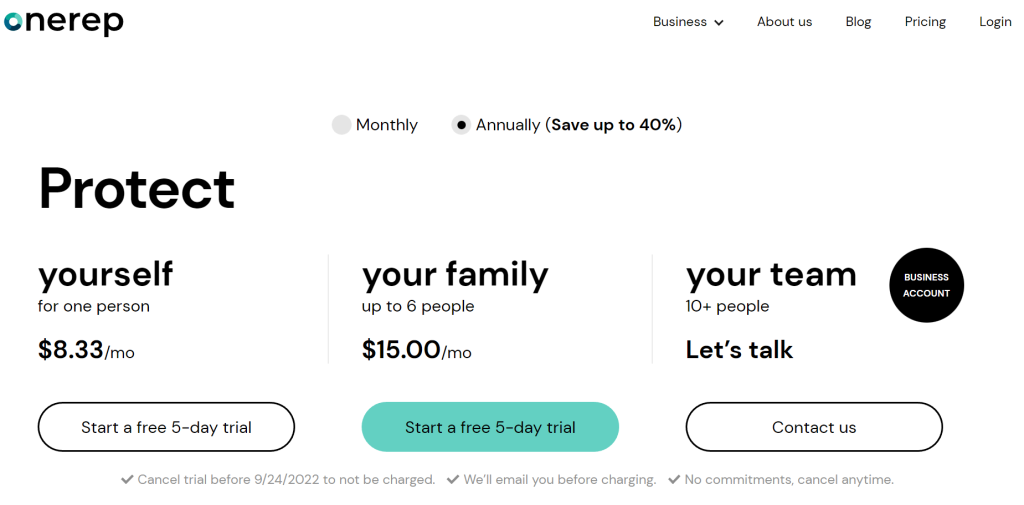 Privacy
The major goal of OneRep is to grant privacy to users. Everyone deserves to get privacy and security for their personal information. The rating which OneRep enjoys narrates a lot about how well it serves the purpose of privacy. The vision of the founder has found its best execution in terms of privacy.
Reliability
The reliability which users have granted to the OneRep platform is highly impressive. The trajectory by which users have been increasing is always going upwards. The count of users has turned into millions which once started from scratch. This is what reliability looks like as millions of users trust OneRep in terms of getting their data deleted from the web.
Quick remove
The average time that OneRep uses to remove data from the web is lower than other alternatives available. The time mentioned by OneRep's official website is 2 to 8 weeks. This is pretty fast and generates major benefits for users depending on OneRep.
How Does OneRep Work?
Features of OneRep
The features offered by OneRep define the platform. Without these features existing none of the users will wish to have the assistance of OneRep. Some of the major features of OneRep are as follows –
150+ Websites removal
Numerous websites get personal information shared by users. Usually, broker sites steal the data and deliver the data to a third party. As the practices are unethical it is still practiced by multiple websites. OneRep has the capacity of erasing data from over 150+ websites.
Dashboard
The dashboard which is constructed by OneRep narrates the exact information regarding the websites where the data was being compromised. As users get to know about the exact details and can stay extra protection in case they have to revisit these websites.
Deletion
The major desire for using OneRep is the deletion of personal data from several websites. These websites usually have such complexities involved and the process stays time-consuming.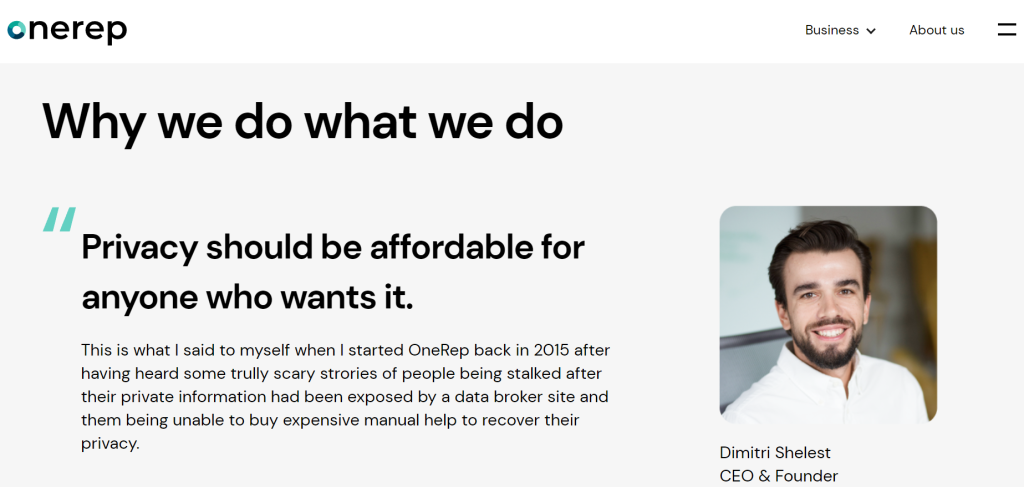 But there is a promise on the behalf of the company as no matter how complicated the process the deletion will be delivered for sure.
Remediate
The data which is once deleted have a high chance of getting published again. This is horrifying as users may think that data is permanently deleted but sometimes these websites republish the data. But no worries as the way OneRep works have the ability to remediate as it keeps a check over these websites and makes sure the data isn't published again.
Process
The process by which data can be removed manually is already available on OneRep. As users get a chance to learn it for free. But if someone wishes to delete it automatically then too OneRep's tool is there to assist users.
Easy Registration
If the complexities are offered by OneRep then it may encounter chaos while registering. This is the reason the process has been kept super simple. As users can simply enroll by providing similar details and picking up a pricing plan which suits them the most.
Finest Technology
The level of advanced technology which is used by OneRep is wonderful. Users don't have to worry about the drawbacks because it has been constructed with the finest technology. So get your subscription and have the fullest access to the level of privacy which everyone deserves.
Should You Use OneRep?
OneRep is easiest to use with advanced features in place so users don't have to worry about how the technology is going to work.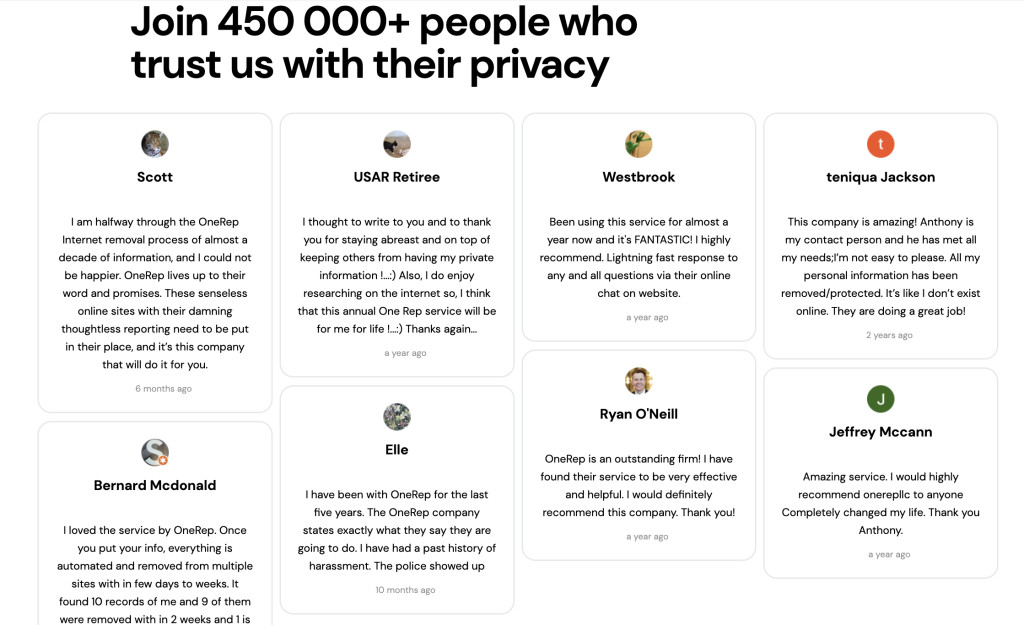 As there is no need of accessing the top-notch technical caliber. The manual and automatic tools can be easily activated with single clicks and signups.
Access to these features won't challenge those who. aren't tech savvy as the customer support is available 24×7 which can be requested for help. Customer support makes work simpler as users will not feel stuck in the middle of a mess. So don't worry if you aren't tech-savvy as OneRep.got your back.
Conclusion – Final Verdict
The right to privacy shouldn't be compromised as it is not something that is optional. Everyone deserves to feel safe no matter whether they are online or offline.
Privacy has to be done with the finest method and OneRep is one such platform that does this with grace.
Though the services are limited to the USA, the world awaits expansion. The pricing is impressive and the features never fail to stand to expectations. So don't let any website steal your data that you don't wish to share because OneRep is here to get the problems resolved in the fastest mode.
FAQs
Is there any free trial offered by OneRep?
Yes, OneRep offers 5 days of free trial to every new user.
How many packages are offered by OneRep?
Majorly three packages are offered by OneRep tagged as personal, family, and team packages.
From how many websites data can be cleared?
OneRep offers deletion from over 150 websites.